How to Use This Model
The map and figure on the Physical and Chemical Processes Model Main Page provides an overview of the Physical and Chemical Processes Model. The map shows that, for this model, the San Joaquin River is divided into three reaches. Reach 1 extends from Friant Dam to Vernalis, Reach 2 extends from Vernalis to Channel Point, and Reach 3 (the DWSC reach) extends from Channel Point to Disappointment Slough. See Geographic Scope for more information.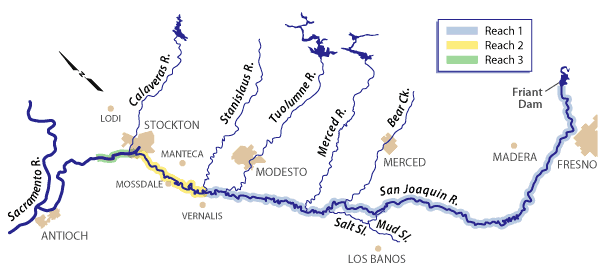 The figure below provides a broad overview of the model, showing the flow of DO and oxygen-demanding substances down the San Joaquin River. The focus of the model is DO conditions in Reach 3 (the DWSC).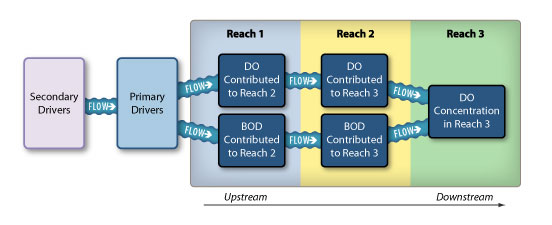 The overall structure of the Physical and Chemical Processes Model is presented in the diagram below.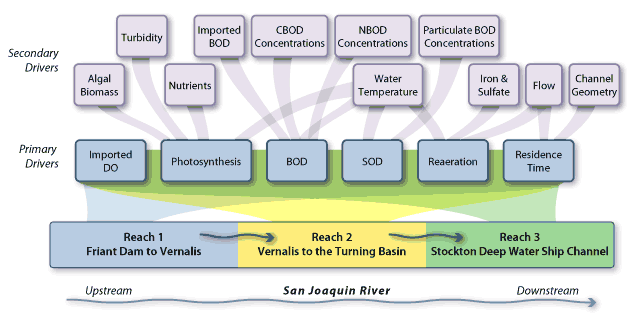 The Basic Concepts page provides general (non–reach specific) information about each primary driver and the secondary drivers that influence it. This information includes definitions, general scientific principles, and interactions among drivers.
Clicking on one of the reaches on the physical/chemical model home page takes you to a graphic illustrating the primary drivers that influence DO concentrations in that reach.
Clicking on one of the dark blue outcome boxes takes you to a description of the DO and BOD contributed from that reach to the next one (e.g., from Reach 1 to Reach 2).
Clicking on one of the primary drivers takes you to a graphic that depicts the secondary drivers that influence that primary driver. You can either click on the graphic to jump down the page to a reach-specific discussion of a particular secondary driver, or you can simply scroll down the page. The text describes the:
hypothesis or hypotheses underlying the relationship;
evidence supporting the strength of this linkage (how much influence the secondary driver exerts over the primary driver);
level of scientific certainty associated with this linkage (how well it is understood and how its influence may vary over time or geography);
known mathematical relationships between the secondary and primary drivers, including whether there are critical thresholds; and
sources of the secondary driver in the reach.
Where alternative hypotheses exist, each is presented, and the sources of data supporting each are listed.
Several tools are included in this model to help make it easier to understand the information presented and to facilitate access to information used in this model.
Links are provide to other websites or information related to DO in the DWSC.